Referrals Welcome - Tony Vejar Your Az Real Estate Specialist January 7, 2017

Tony Vejar and Team's highest compliment of thanks we could ever receive would be a referral from you of a friend, co-worker or family member. Our Business is growing because of referrals from our clients like you, and we thank you for your thoughtfulness in passing of our name. We'd love to help other, so please do not hesitate to send folk our way. We promise to give them the same superior service we have provided you! If there is anything else we can do for you, please don't hesitate to let us know. Yours Truly Tony Vejar your Arizona Specialist!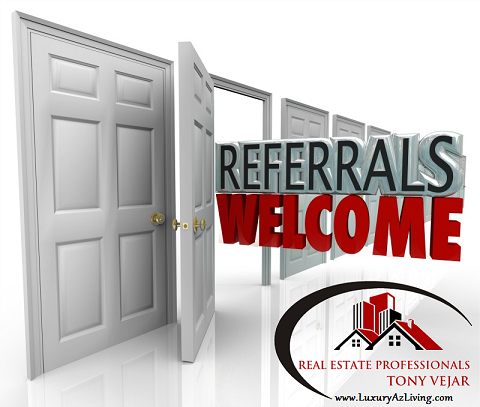 Anyone you refer to us, we give them the same Red Carpet VIP Treatment we give everyone.
We are the RED CARPET REALTOR®!
Just a reminder that our Services to Buyers are **100% ** Free no hassle, no obligation, no pressure. Feel free to call or text me for a free to call or text me (602) 361-5867
Tony Vejar
Direct: (602) 361-5867
Your Arizona Real Estate Specialist
Residential: http://luxuryazliving.com/
New Homes: http://tonyvejar.newnha.com/
Facebook: https://www.facebook.com/tonyvejar.realty/
Review us on Google: Google Review