Spring Home Maintenance list May 17, 2017

Just as you prepare your home for the winter by covering outside pipes, making sure your heater is working well and removing all of the old leaves and branches from your property, there are also a number of things homeowners should do to ready their homes for warmer weather. With spring in full swing, check out the following list of home-related chores and checkups you may want to do before summer arrives.

Check For Pests

As plants, flowers and bushes began to come back to life with the warmer weather, so did a variety of pests. Every spring, walk the perimeter of your home checking for signs of infestations. Look for evidence of termites in the wood — either by seeing the insects with your own eyes or by seeing damage to the wood or their droppings; also watch for ant hills, bees swarming in trees and places where four-legged critters like squirrels and raccoons might be able to get into the attic. Do the same thing in the home; if you have spotted a cockroach in the bathroom or crickets in the kitchen, chances are good there are many more of the insects that you cannot see. If you spot a large number of bees building a hive, call a bee removal company that will safely relocate them and if you see other evidence of pests, you may want to call an exterminator for help — especially in the cases of termites and wild animals getting into the home.

Examine Your Sprinklers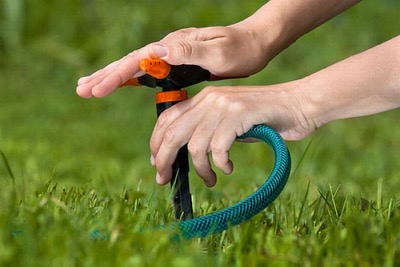 You may not have run your underground sprinkler system all winter, but now that the weather is heating up you'll want to be sure your grass and other outdoor plants are getting plenty of water. Turn on the sprinkler zone by zone and check to be sure the sprinkler heads are rising from the ground properly and spraying in the right direction. If you spot any that will not budge or have broken off and are shooting water into the air, you can call a local landscaper to come fix them, or DIY-minded folks can fix these themselves.
Examine the Roof
Another important task to complete in the spring is giving the roof a thorough check up. Depending on how pitched or large your roof is, and how comfortable you are with heights, you can carefully do this inspection yourself or hire a roofing company. If you do this job on your own, examine the roof shingles or tiles to see if any were damaged or blew off during the winter, and check the flashing around skylights and chimneys to be sure it is tight and not allowing water to seep into the house.
Ready Your Air Conditioner
Before it gets too hot, give your A/C unit a thorough inspection to be sure it will keep the home and your family cool during the upcoming warm months. Change the filter, check all hose connections for any leaks and make sure the drain pans are not clogged. Vacuum the unit to remove any dust that can prevent it from working at full efficiency, and if you spot any issues along the way, call in a professional to fix them before summer arrives.
Trim Away Overgrown Branches
As the DIY Network notes, spring is a great time to remove branches from trees and bushes that are touching up against your house. In general, try to keep the branches about 5 or 6 feet away from the sides and roof of the house to prevent critters from having a highway to hop onto your roof and prevent spring rains from getting onto the roof and sides of the home.
Buying and selling homes in Arizona? Feel free to let us help :)
Tony Vejar
Your Arizona Real Estate Specialist
www.LuxuryAzLiving.com