Phoenix Arizona Real Estate Resource | Why Rent? | Real Estate Tony Vejar December 11, 2018

Metro Phoenix Real Estate shows A new study says an overwhelming majority of millennials want to be homeowners, but student loans are holding them back.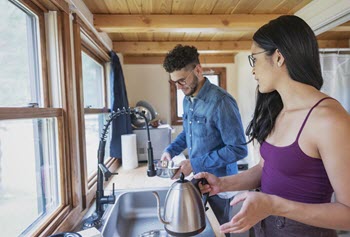 For many millennials, the idea of homeownership is still a big picture dream, with a new study saying 89 percent plan to purchase a home in the future — but simply can't because of student debt.
According to a recent study released by Apartment List, 6,400 millennial renters nationwide were surveyed in regards to their plan for owning a home. Despite the majority of young people wanting to migrate away from renting, 48 percent have nothing saved for a down payment.
One of the leading reasons, according to Apartment List, is because of the staggering amount of student loan debt many millennials carry.
"Student debt is keeping homeownership out of reach for many millennials," the authors of the study wrote. "We estimate that 23 percent of college graduates without student debt can save enough for a down payment within the next five years, compared to just 12 percent of college graduates who are currently paying off student loans."
For millennials without a college degree, the odds of having enough money to purchase a home are even lower. Just six percent say they're able to save enough for a down payment in five years, the study revealed.
Apartment List's findings echoed separate studies illustrating how the student debt overhang is reverberating across the economy. A study released last year by the Federal Reserve Bank of New York showed that over the past decade, student loan debt in the U.S. has increased by 170 percent. Today, the average borrower has $34,000 in loans.
The Fed study also estimated that the average monthly payment on a student loan increased from $227 in 2005 to $393 in 2016. This means that with the rising cost of education, more young people are having an increasingly harder time saving for a traditional 20 percent down payment on a home.
As a solution, 19.4 percent of millennials surveyed said they are relying on financial assistance from a family member in order to make home ownership more attainable. However, the amount of assistance that a young person receives varies greatly based on income.
For millennials who make $100,000 or more, Apartment List found they expect to receive over $50,000 in financial assistance from a family member, which is more than the down payment needed for an average U.S. condo that costs $224,100. This number is also more than twice the amount of assistance individuals who make between $50,000 and $75,000 expect to receive from family — and it's over 10 times the assistance that individuals who make less than $25,000 expect to receive.
Your Arizona Real Estate Resource
Phoenix Metropolitan Arizona Real Estate
Red Carpet REALTOR®
Tony Vejar Your Real Estate Specialist
(602)361-5867
Tony@LuxuryAzLiving.com
www.LuxuryAzLiving.com
Connect with us on Social Media
https://www.facebook.com/tonyvejar.az
https://www.facebook.com/tonyvejar.realty
https://www.instagram.com/tony.vejar
https://www.linkedin.com/in/tonyvejaraz/