Arizona Real Estate | Home Builders | First Time Home Buyers | November 20, 2018

Homebuilder confidence plummets to the lowest level in more than two years as 'demand stalls'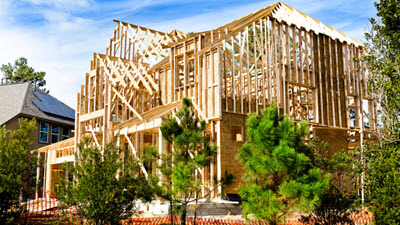 Rising mortgage rates and continued home price growth are hurting affordability and fast becoming a toxic cocktail for the nation's homebuilders.
Sentiment among homebuilders dropped 8 points in November to 60 in the National Association of Home Builders/Wells Fargo Housing Market Index. That is the lowest reading since August 2016, but anything above 50 is still considered positive. The index stood at 69 in November of last year and hit a cyclical high of 74 last December.
"Builders report that they continue to see signs of consumer demand for new homes but that customers are taking a pause due to concerns over rising interest rates and home prices," said NAHB Chairman Randy Noel, a builder from LaPlace, Louisiana.
Of the index's three components, current sales conditions fell 7 points to 67, sales expectations in the next six months dropped 10 points to 65, and buyer traffic registered an 8-point drop to 45. Buyer traffic had broken out of negative territory earlier this year but now appears to be back in it solidly.
Some of the nation's largest publicly traded homebuilders, like Lennar and KB Home, lowered their expectations for sales in 2019 in recent earnings releases. There is still a shortage of homes for sale, but newly built homes come at a price premium, and as interest rates rise, new home buyers are consequently hit hardest.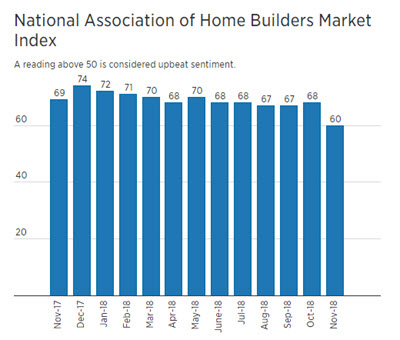 The average rate on the popular 30-year fixed mortgage is now more than a full percentage point higher than it was a year ago. The huge home price gains seen over the last two years are now shrinking, but prices were still up a strong 5.6 percent year over year in September, according to CoreLogic.
"For the past several years, shortages of labor and lots along with rising regulatory costs have led to a slow recovery in single-family construction," said the NAHB's chief economist, Robert Dietz. "While home price growth accommodated increasing construction costs during this period, rising mortgage interest rates in recent months coupled with the cumulative run-up in pricing has caused housing demand to stall."
Looking at the three-month moving averages for regional builder sentiment, the Northeast rose 2 points to 58. The Midwest fell 1 point to 57, the South declined 2 points to 68 and the West dropped 3 points to 71.

Source: CNBC
Your Arizona Real Estate Resource
Phoenix Metropolitan Arizona Real Estate
Red Carpet REALTOR®
Tony Vejar Your Real Estate Specialist
(602)361-5867
Tony@LuxuryAzLiving.com
www.LuxuryAzLiving.com
Connect with us on Social Media
https://www.facebook.com/tonyvejar.az
https://www.facebook.com/tonyvejar.realty
https://www.instagram.com/tony.vejar
https://www.linkedin.com/in/tonyvejaraz/